Looking for a new surfing watch to help track your sessions, tides, sync to Surfline cams, and all that other digital watch stuff? Let's take a look into an objective review of the Rip Curl GPS Watch, or more specifically, The Search GPS 2 digital surf watch.
Below, I'll break down my experience with the watch across a few key categories including price, battery life, durability, GPS, Surfline integration, problems, apps, and my overall experience over the last of year.
Rip Curl GPS Watch Price
At the time of this writing, the GPS 2 watch retails around the web for $230.99 to $359.95, depending on which color you get.
There are certainly other tide watches on the market for cheaper, but this is one of the more premium surf watches due to the GPS integrations.
Rip Curl GPS Watch Battery Life
The GPS 2 has two battery functions to be aware of. The first is the primary watch function and the second is the GPS function. Both are charged from the same USB charger but you'll find you need to charge the GPS function regularly.
I didn't realize the primary watch could be recharged as I thought it ran on a normal watch battery, but it does have really good longevity and is something I like about the watch.
The GPS function – the part that powers your ability to track sessions – typically lasts one or two sessions. In short, you need to recharge this every other day or so if you are surfing and using the GPS tracking.
Rip Curl GPS Watch Durability
This watch is made of ABS hardened plastic so I find that the durability is quite good. While my watch does have some normal nicks and dings, it has no damage to speak of. The rubber band is still going strong after one year and all pieces have maintained their integrity. It is a tough watch.
Rip Curl GPS Watch GPS Accuracy
The accuracy of my Rip Curl GPS Watch leaves something to be desired. I'm not sure if the issue is reserved to my pocket of Central Florida coastline, but I find it to be highly inaccurate on wave count.
Getting the watch to actually enter the surf tracking mode is also buggy. If I don't turn on the tracking feature at my car before walking down to the beach, it won't pick up my GPS location and allow me to track.
I also find that the tide settings are completely inaccurate when compared to other tide resources. My watch is a full 50 minutes off the tide at my local beach, despite the option to set it accordingly. Tide is extremely important for surfing, so this is a big miss for me in terms of accuracy.
I contacted customer service about this issue and they never responded.
Rip Curl GPS Watch Surfline Integration
The integration with Surfline cameras is one of the highlights of this watch. If you are unfamiliar, you can actually set up the watch to track your sessions and sync with Surfline wherever they have a camera set up. It's quite fun to be able to go back to the Surfline app and try and watch your waves.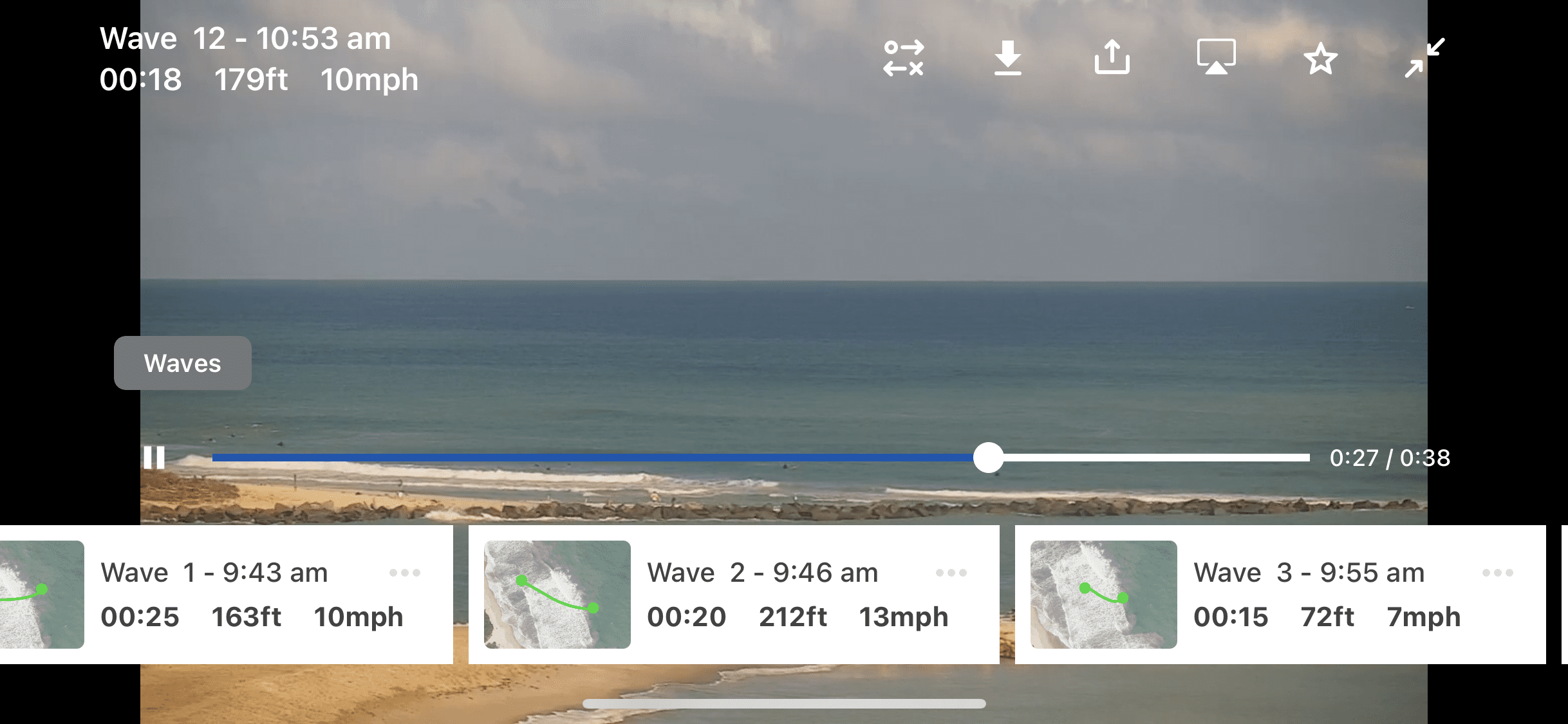 I will admit that my success with this is quite low, but that is more due to Surfline's poor camera angles at the locations I am surfing than it is with the watch.
Rip Curl GPS Watch Problems
My primary problems with the watch are the inaccuracy of the tide data and the watch's inability to update it automatically. The other prominent issue is the inaccuracy of wave tracking; the watch doesn't do a good job of registering total wave counts, often missing out on tracking of about 20-30% of my waves.
Rip Curl GPS Watch App
I have no qualms with the iPhone app but there are quite a few bad reviews of those with Android phones. As of now, Rip Curl does not make an Android app and they recommend using the desktop app to sync surfs.For people who want to synce surfs immediately after a session, this is a miss.
Overall Takeaway
My overall takeaway from one year with the Rip Curl GPS watch is that has some high points and low points. I like the style of the watch, its aesthetics, and simple user interface. The pricepoint is also fair from the list of features available. It also fits well on my skinny wrists even though it has a rather large case size of 43 mm.
On the negative side, the inaccuracy of tide tracking is a major downfall and too important of a feature to be inaccurate. The inability of the GPS to track accurate wave counts also is disappointing, as those users who value this type of data may be let down.